The Basics of How Indexed Annuities Work
To understand the basics of how Indexed Annuities work, you must know that Index Annuities, Fixed Indexed Annuities, and Equity Indexed Annuities, all mean the same thing. These are all the same insurance product with different labels, but the correct name is a 'Fixed Indexed Annuity'.
Fixed Indexed Annuities are nothing more than fixed annuities with a different method of crediting interest. With a fixed annuity, which is a lot like a CD, the contract owner receives a stated rate of interest each year.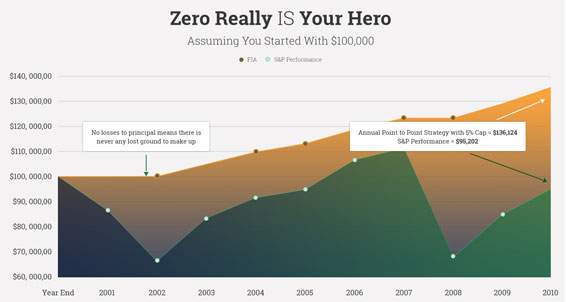 But with an Index Annuity, the appreciation rate is calculated based on growth in an outside market index, like the S+P 500 or the Dow Jones index.
The beauty of Index Annuities is that if the market index goes up, the contract makes money. But if the index goes down, the principal is protected and the contract does not lose value.
Index annuities give consumers partial participation in the markets but offer a principal guarantee.
How Insurance Companies Make This Possible
First, you must know how insurance companies guarantee that your Fixed Index Annuity will go up but not down. To do this, you have to understand the basics of how indexed annuities work
Insurance companies in general use the premium they bring in to invest in safe assets in the general account. Think of it like a large pool of conservatively invested money.
In a Fixed Indexed Annuity, the insurance company uses your premium to invest in bonds, mortgages, and other instruments in the safe, core general account. This produces an annual rate of return, often known as the 'general account' yield. The insurance company expenses are subtracted from this to create the yield you can expect to see with a fixed annuity.
But with an indexed annuity, instead of accepting this 'general account' fixed rate, the insurance company uses the interest earned from the conservative portfolio to purchase an option position in a market index.
If the market goes up, the company will exercise the option and realize a gain that is credited to your annuity account value.
If the market moves sideways or down, the option expires worthless and no interest – or gain- is available for crediting, but most importantly no loss of principal is realized.
Potential for Gain with No Risk of Loss
When talking about the pros and cons of fixed indexed annuities, the biggest positive is that index annuities truly offer you the potential for gains based on market appreciation, without the risk of loss to your principal.
Your principal is not at risk, rather, it's only the earnings from your principal are invested in potentially higher yield options. Thus, an indexed annuity is a safe asset with upside potential.
This explanation also gives you a good idea why these are called "Fixed Indexed Annuities". Income from the FIXED account growth is used to buy options in a market INDEX for potential gain.
Using Fixed Index Annuities
Fixed-indexed annuities are a great alternative to bonds and are a core, safe money holding often used to make sure principal is safe, and to preserve assets and options for later.
But far too often, the fixed indexed annuity is sold with income or long-term care benefits that add more cost and take away from the real benefits you need.
An additional cost is fine for additional benefit but you need to look at it from a different angle to see if it truly gives you more money. Most times it does not. The key to getting the most out of an annuity is to use it so that the annuity allows you to get the most out of your total portfolio. This is the best way to do it and that's the only way I suggest doing it.
Like I said at the beginning, most annuities are sold in a way that decreases net worth in the long run. But there's a way to use an annuity that increases your net worth throughout retirement. Are you interested in finding it?
A great start is The Annuity Guide which is essential reading for retirees considering Fixed Indexed Annuities. It is available for a free download at Annuity Straight Talk, and will help you find the safety and guarantees you need.
Click Here to get your copy today!
If you seek a qualified adviser well-versed in the pros and cons of fixed index annuities, please do not hesitate to contact Annuity Straight Talk today on 800-438-5121.
Last Updated on September 21, 2023 by Bryan Anderson